Main information:
Margravial Opera House
Festive reopening of the Margravial Opera House in 2018
The festive reopening of the Margravial Opera House in Bayreuth will take place on 12 April 2018 after a five-year renovation period. To mark the occasion, the Bayerische Theaterakademie August Everding (August Everding Bavarian Theatre Academy) and the Bayerische Schlösserverwaltung (Bavarian Palace Department) are presenting the opera Artaserse by Johann Adolph Hasse – one of the most famous and important composers of the 18th century – on the stage of the opera house. The premiere will also be on 12 April 2018 and further performances are planned here on 14 and 15 April 2018. After the performances in Bayreuth, the production will also be shown on 11, 13 and 15 May 2018 in the Cuvilliés Theatre in Munich.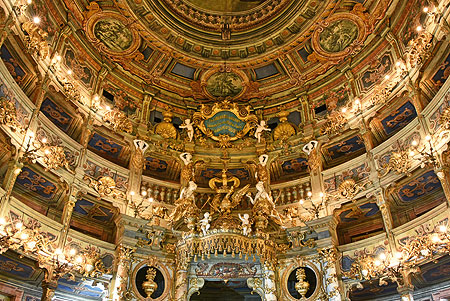 Margravial Opera House Bayreuth after the restoration,
view of the princes' lodge, balconies, and ceiling
The performance of Artaserse ties in with the opening of the opera house in Bayreuth in the year 1748 by Margravine Wilhelmine. The sister of Frederick the Great chose this work for the inauguration festivities of the new building, for which she had largely been responsible. Artaserse is an opera seria in three acts by the composer Johann Adolph Hasse with a libretto by Pietro Metastasio. The celebrated premiere took place in February 1730 in the Teatro San Giovanni Grisostomo in Venice and established the composer's reputation. The main part of Prince Arbace was sung by the famous castrato Farinelli.
The reopening of the Margravial Opera House will be accompanied by a comprehensive programme of themed tours and other attractions relating to the restoration, art and history of the Opera House.
Advanced booking for the opera performances in Bayreuth and Munich
For the public performances of the opening opera on 14 and 15 April 2018, there will be an exclusive opportunity to buy tickets on Saturday 10 February 2018 from 10am at the booking office in Bayreuth, Opernstrasse 22.
Online and telephone ticket sales will begin on 12 February 2018 at 10am, as well as regular sales at the booking office on Marstallplatz, Munich, and at the theatre booking office in Bayreuth, Opernstrasse 22. Tickets for the performances on 14 and 15 April 2018 (Bayreuth) and on 11, 13 and 15 May 2018 (Munich) will be available at www.theaterakademie.de and under the telephone number 089 21851970. Please note that because of the expected high demand, no more than four tickets can be issued per customer. Tickets cannot be reserved beforehand.
| top |