Main information:
Bayreuth New Palace
Margravine's rooms: Old Music Room
Music played a major part in Wilhelmine's life. The margravine played several instruments, composed and organized concerts and operas at the Bayreuth Court.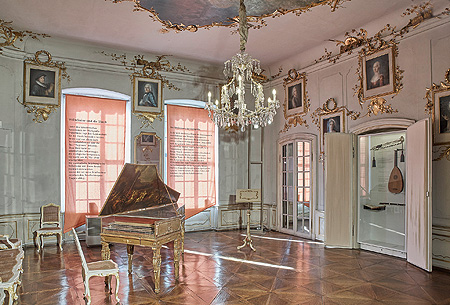 The appearance of the music rooms in her palaces was thus particularly important to her. In the Hermitage she had already created a music room which is one of the best examples of the German rococo style.
Given Wilhelmine's passion for music, this would certainly have been one of her favourite rooms. The ceiling is decorated with a painting of Orpheus, accompanied by Wilhelmine's lap dog Folichon.
The pastel portraits of singers, musicians, dancers and actors that are integrated into the wall panelling are a particularly important feature of this room. Some of the portraits are by the Swedish painter Alexander Roslin, and several are probably by Wilhelmine herself; her gallery also includes a picture of Voltaire.
---