Main information:
Information for visitors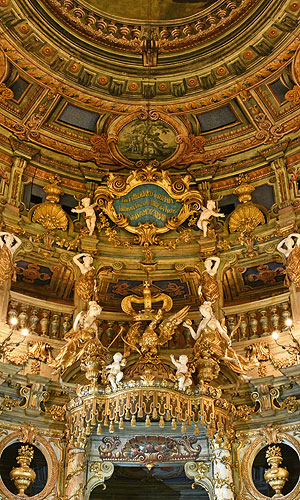 Admission charges 2018
Combination ticket »Die Welt der Wilhelmine«
(all Bayreuth objects)
18 euros regular · 16 euros reduced
New Palace
5.50 euros regular · 4.50 euros reduced
Margravial Opera House
8 euros regular · 7 euros reduced
Please note that on the weekends 21/22 and 28/29 April as well as on 26 April from 2.30 pm there will be no multimedia shows at the Margravial Opera House due to an event. Visitors will only have to pay a reduced admission charge of 4 euros.
Combination ticket »New Palace /
Margravial Opera House«
12 euros regular · 10 euros reduced
Hermitage Old Palace
4.50 euros regular · 3.50 euros reduced
Sanspareil: Oriental Building + Zwernitz Castle
3.50 euros regular · 3 euros reduced
---
Free and reduced entrance
Children under 18 are admitted free of charge.
Students over 18 from general schools, vocational schools, special schools and schools for sick children in accordance with Article 6 (2) of the Bavarian Education Law (BayEUG) are also admitted free on production of a student identity card.
Students from "second chance" schools (evening schools leading to intermediate or higher secondary school qualifications, colleges) in accordance with Article 6 (2) No. 1e of the Bavarian Education Law and language school students are not admitted free of charge.
Further information about reduced admission charges, free entrance etc you will find in our general information.
With one of our annual season tickets or 14-days-tickets you can visit over forty of the most beautiful sights in Bavaria!
| top |