Information for visitors
Admission charges 2013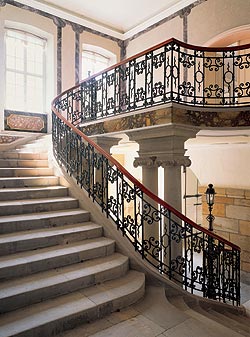 New Palace
5.50 euros regular
4.50 euros reduced
Margravial Opera House
closed for restoration
Information centre in the Margravial Opera House
2.50 euros regular /
2 euros reduced
Hermitage Old Palace
4.50 euros regular
3.50 euros reduced
Sanspareil: Oriental Building and Zwernitz Castle
3.50 euros regular /
3 euros reduced

Fantaisie Palace
(www.gartenkunst.museum.de)
Combination ticket "Die Welt der Wilhelmine" (all Bayreuth objects)
12 euros regular / 10 euros reduced
---

Free and reduced entrance
Children, young people under 18 and pupils at secondary schools and further education colleges are admitted free of charge, on production of their pupil identity card (or other document proving attendance at the relevant school). Students at language schools and adult education centres are not admitted free of charge.
Details about reduced admission charges, free entrance etc you will find in our

general information.
With one of our

annual season tickets or 14-days-tickets you can visit over forty of the most beautiful sights in Bavaria!
| top |