Main information:
Hermitage
Old Palace

Several kilometres outside the town, the Hermitage Palace, which later became known as the Old Palace, dominates the extensive park with its tree-covered slopes that rises above the Roter Main river. The palace and park were created in 1715 by Margrave Georg Wilhelm, an uncle of Margrave Friedrich.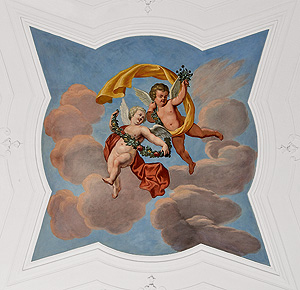 Ceiling painting in the margravine's bedroom
The isolated location of the palace formed part of the design right from the beginning: the building was conceived as a hermitage. The prince summoned the members of his private order here to take part in retreats.
After Margrave Friedrich gave the Hermitage to his wife in 1735, the year he took office, Wilhelmine immediately began extending the small palace, and created a jewel of rococo architecture. It is so much her palace, that a visit to the Old Palace, in particular the Ladies' Wing, is interesting not only for its unique interiors but for the insight it provides into the mind and imagination of Wilhelmine.