Main information:
Bayreuth New Palace
Staatsgalerie (state gallery) – late baroque art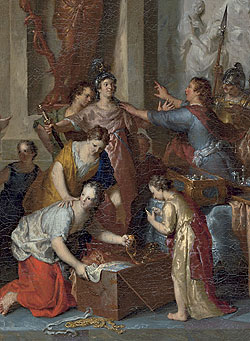 Odysseus recognises Achilles amongst
the daughters of Lykomedes (Detail),
Gerard Hoet, around 1700
The Staatsgalerie im Neuen Schloss, Bayreuth, contains more than eighty Dutch, Flemish and German paintings dating from the late seventeenth to the eighteenth century. Displayed in elaborate frames in the recently restored picture gallery founded by Margrave Friedrich of Bayreuth and his wife, Wilhelmine, they give a good idea of how a late Baroque art collection must have looked.
A major focus is Dutch painting from around 1700, the end of the Golden Age. In the late seventeenth century French influence "ennobled" the visual arts in the Low Countries. Painting there began to be dominated in form and content by classical antiquity and acquired a new decorative elegance. The first room in the Bayreuth Staatsgalerie focuses on history painting, which then ranked as the highest form of art.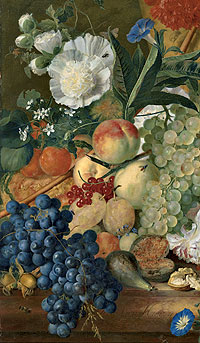 Fruit and flowers,
Jan van Huysum, 1735 (Detail)
The gods Venus and Bacchus, the lovers Dido and Aeneas, the wily adventurer Odysseus, the heroes Achilles and Perseus, the Egyptian queen Cleopatra and the triumphant Alexander the Great all feature in the manyfigured works of Gerard de Lairesse, Gerard Hoet and Adriaen van der Werff.
These figure paintings appear alongside masterpieces by the finest still-life painters of the age. Lavish flower pieces by Rachel Ruysch and Jan van Huysum, and Jan Weenix's much-admired hunting still lifes, show that Dutch painters continued to produce outstanding work long after the death of Rembrandt, in 1669.
The second room centres on German landscape painting of the eighteenth century, with major pictures by artists who took their cue from Dutch seventeenthcentury painting, including Philipp Hieronymus Brinckmann, Christian Wilhelm Ernst Dietrich and August Querfurt.
Alongside these are colourful paintings by exponents of the Flemish 'Brueghel Renaissance', such as the Antwerp painters Pieter van Bloemen, Jan Frans and Jan Pieter van Bredael, and Theobald Michau.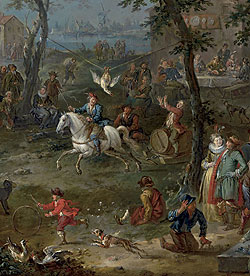 Fun at the fair: Duck catching
(Detail), Jan Pieter van Bredael d. J.,
around 1715
In the post-1700 period these artists achieved success throughout Europe with pictures based on landscapes painted around 1600 by Jan Brueghel the Elder.
The third main focus of the Staatsgalerie is especially distinctive. A separate cabinet is devoted to charming portraits, genre paintings and still lifes by the Flemish artist Peter Jakob Horemans (1700-1776), who was active as court painter in Munich. Horemans's lovingly detailed images captured the richness of eighteenth century culture, giving present-day viewers an insight into everyday life in southern Germany in the Rococo period.
© Text and pictures: Bayerische Staatsgemäldesammlungen, Munich
---