Main information:
Bayreuth New Palace
Margravine's rooms: Japanese Room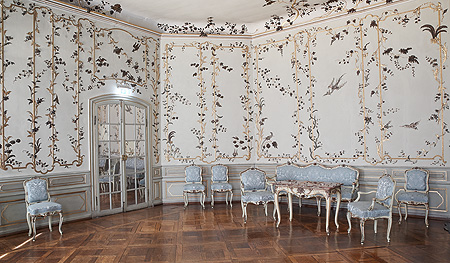 The garden and trellis theme of the decoration in the Japanese Room also features in various forms in other rooms of the New Palace. The use of individual oriental motifs was also typical of the time.
Fine, elegantly curving frames divide up the light-green walls. Small-leaved plants wind around the trellises; fairy-tale birds flit to and fro, alight on swaying branches laden with blossom or peck at seeds. In the spaces between the decoration, the wall seems to be open to the outside. On the ceiling a princess is seated beneath a baldachin on a shell throne. We are in the Golden Age of the ancients: the margravial couple also had ambitions of creating a Golden Age in Bayreuth.
---