Main information:
Bayreuth New Palace
Margravine's rooms: Cabinet of Fragmented Mirrors
This cabinet and the following rooms were not used for representative purposes, but were the margravine's private quarters.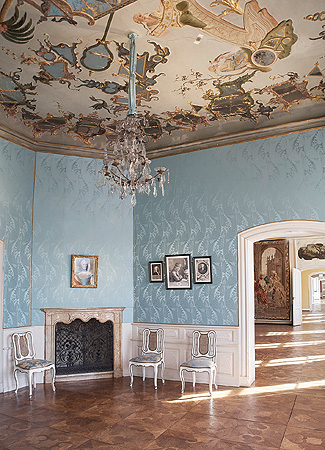 Palaces in the baroque age often had rooms where the walls were decorated with mirrors. Mirrors generally make a room look larger and lighter, but the effect created by Wilhelmine's use of mirrors is different. Irregular fragments with gaps in between them do not enlarge a room, but make walls and ceilings look as if they are pierced with holes.
Cabinets decorated with mirror fragments were a unique feature of the Bayreuth rococo style. A few years previously, Wilhelmine had already had a room in the Hermitage decorated in this way. However, in the Hermitage the walls are decorated with mirror fragments, whereas in the New Palace cabinet it is only the ceiling that has mirrors. The fragments are joined up with stucco-work to form strange motifs: lions and dragons, dolphins and insects; clear geometric forms alternate with bizarre shapes. The central feature of the design is a glass pavilion in which a lady – probably intended to represent Wilhelmine herself – is reading an old document presented to her by a kneeling Chinese man.
---