Main information:
Hermitage Old Palace
Marble Hall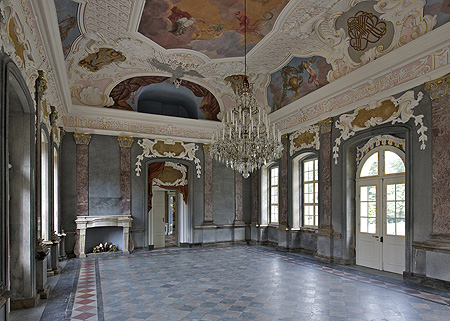 The Marble Hall, the Festival Hall of the Old Palace, is the central room, located between the wings of the margrave and margravine. When the palace was redesigned under Wilhelmine the decor of this room was hardly altered at all, and dates back to the time when the palace was originally built. The walls are clad with local marble.
In accordance with the original function of the palace as a hermitage, the star of the Bayreuth palace order founded by Georg Wilhelm, the »Ordre de la Sincérité«, is the theme of the decoration. It appears as a pattern in the ceiling stucco-work, features in the four corner cartouches and is also worn by the Brandenburg eagles above the music galleries. The ceiling painting by Gabriel Schreyer shows the sun god Apollo as an allegory of absolute rule.
---