Main information:
Bayreuth New Palace
Museum of Bayreuth Faience – Rummel Collection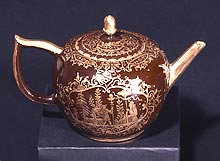 "Brown ware" teapot with gold
painting, Bayreuth, ca. 1730
Only a very small section of the Bayreuth faience collection assembled by the Bavarian Palace Administration was originally found in the inventory of the Bayreuth palaces.
In the New Palace all that remained after the dissolution of the Bavarian court were two ornamental vases and several large mirror frames mounted on the wall pillars of the Italian Palace. It was however possible to buy back or loan some exemplary pieces from the margravial dinner services.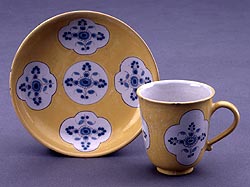 Coffee cup and plate from a yellow
ground service (1761-1788)
One of the Bayreuth specialities was the so-called "brown ware", with a coffee-coloured glaze and decorated with gold or silver painting.
Most of the exhibits come from the collection of Colonel Rummel, Bayreuth, which was acquired in 1976.
The 15 high-quality pieces acquired from 1989 to 1991 with the purchase of the collection of Klaus Nottbohm, Hanover, were a valuable addition to the museum. The rest of the exhibits consist of individual purchases made from 1977 to 1994 and several important loans.
---